The Impact of Hurricane Harvey and Hurricane Irma
Introduction
Hurricane Harvey and Hurricane Irma are the only Category 4 Atlantic storms to ever hit the United States in the same year—let alone the same two weeks. Hurricanes Harvey and Irma not only devastated thousands of lives and destroyed billions of dollars' worth of property, they may also have done long-term damage to the competitiveness of two of America's most economically important states- Florida and Texas. Texas accounted for nearly 8 percent of total U.S. economic output last year. Florida's economy is smaller — about half the size of Texas' — but its range of industries, including tourism, ports, business services and health care, magnifies the impact from Irma. Hurricanes Harvey and Irma could slow U.S. GDP 1% this year, dropping it to 2.8%, DS Economics predicts. Congress has authorized $15 billion to help Texas and Florida recover before the U.S. economy begins to suffer substantial harm. In addition to causing massive destruction of property and potentially the economy, the storms have also got people thinking about climate change. Climate change has been a wide-sprea dispute for the last several years, and scientific evidence shows that climate change could be the leading cause of Harvey and Irma.
Learn More:
Geographical Patterns of Hurricanes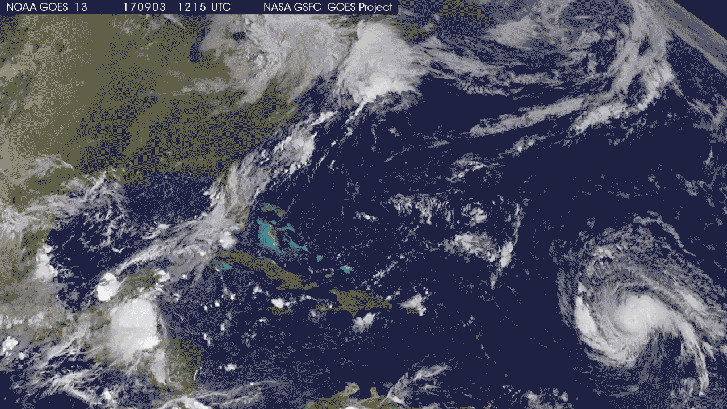 Geographical pattern of hurricane Harvey The rain of Hurricane Harvey first hit the southeast coast of Texas, and spread further up to the east of the state. As shown by the animated image, Houston alone was receiving over 50 inches of rain. Data collected from the Dartmouth Flood Observatory from satellites revealed extensive flooding along Texas' eastern coast. The root of Harvey can be traced back to a tropical wave that emerged from the African coast in early August. On August 25, Harvey made landfall near Rockport, Texas as a Category 4 hurricane. Seven coastal counties in Texas and one Louisiana parish ordered mandatory evacuations, and most of the others encouraged residents to leave.
Geographical pattern of hurricane Irma On August 30, Hurricane Irma made landfall in the Florida Keys, then moved up the state's west coast where a second landfall around Naples and Fort Myers was expected later in the day. The storm had hit Cuba two days before as a Category 5 hurricane. It weakened to a Category 3 the next day, but strengthened again to a Category 4 before slamming into Florida. As Irma continued up the coast, its strength began slowing down, but it had already been the Atlantic's second-strongest storm in history. Mandatory evacuations were ordered in 16 Florida counties, and voluntary evacuations were ordered in 13 additional counties -- all along the coast.
Climate Change is a Causing Factor of the Hurricanes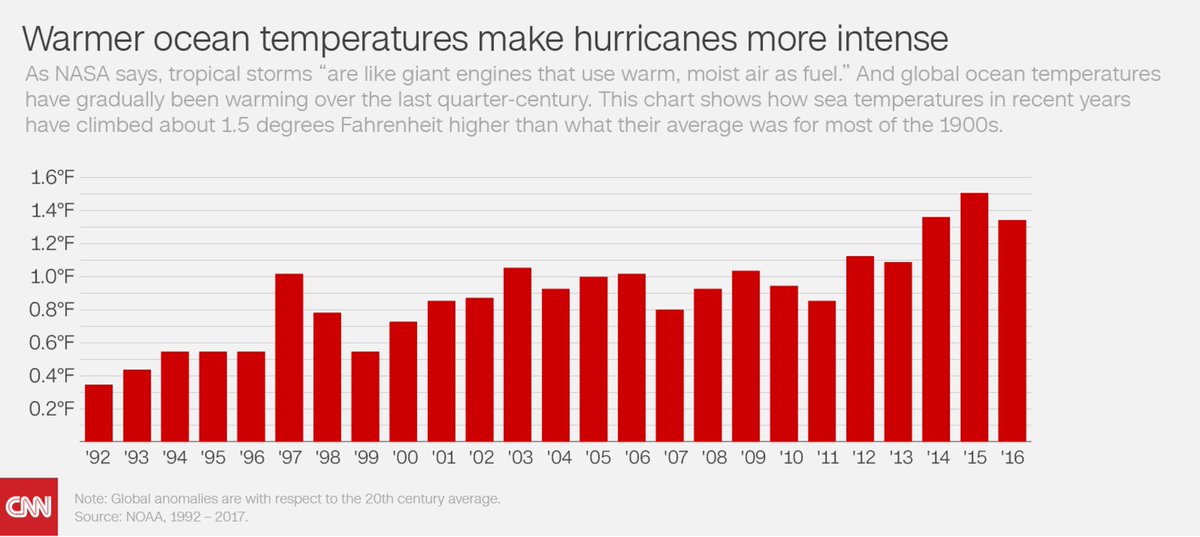 Climate change is becoming an increasingly sensitive debate, especially after Hurricane Harvey and Imra barrelled through the states of Texas and Florida. For scientists, drawing links between warming global temperatures and the ferocity of hurricanes is about as controversial as talking about geology after an earthquake. But in Washington, where science is increasingly political, the fact that oceans and atmosphere are warming and that the heat is propelling storms into superstorms has become as sensitive as talking about gun control in the wake of a mass shooting. Dr. Kirtman and Dr. Berry are among a group of Florida scientists who confronted Governor Rick Scott in recent years for his refusal to acknowledge that human-made greenhouse gases are driving climate change. Last year they wrote a letter to then-candidate Donald J. Trump asking for a meeting to discuss the consequences of climate change in Florida, to which the Trump campaign never responded. It seems almost indisputable that climate change is the reason why hurricanes are becoming more and more common. Traditionally, hurricanes begin as tropical storms over the warm moist waters near the equator. As the moisture evaporates it rises until enormous amounts of heated moist air are twisted high in the atmosphere. The winds begin to circle counterclockwise north of the equator or clockwise south of the equator. The reatively peaceful center of the hurricane is called the eye. Around this center winds move at speeds between 74 and 200 miles per hour. As long as the hurricane remains over waters of 79F or warmer, it continues to pull moisture from the surface and grow in size and force. When a hurricane crosses land or cooler waters, it loses its source of power, and its wind gradually slow until they are no longer of hurricane force--less than 74 miles per hour. Usually, the waters by east coast of the U.S. are cool enough that hurricanes generated near the equator die down before they get too close to coastal states. However, as climate change has increased the average temperature of our earth's oceans, hurricanes created by the earth's equator are fed by warm water right up to the east coast, and, by the time they have reached the east coast, they have travelled far enough that the storm will likely be category 4 or 5. Irma and Harvey are both examples of this trend.
Learn More
Congressional Hurricane Relief
On Wednesday, September 6, the House approved an initial $7.9 billion package of disaster relief funds in the wake of Hurricane Harvey. The vote was 419-3, so the bill moved on to the Senate. Congress also authorized another $6.7 billion in expedited aid relief that would be part of a stopgap spending bill to keep the government open until the end of the year. Combined, these numbers came to about $15 billion, which was just for immediate spending needs after Harvey. The major question that arose in the wake of two massive hurricanes: Does relief from one state come at the cost of the other? For conservative Republicans who were reluctant to spend more on hurricane relief, Florida's storm damage was a secondary concern to the long-term consequences of increasing federal deficit. But Trump, defying the Republicans, gave Congress more time to pass a recovery package worth billions if Irma were to cause more damage.
Impact